WELCOME TO TE ATARANGI ANGUS
Te Atarangi is situated on the Pouto Peninsula, 25 minutes South West of Dargaville. It backs on to the west coast (300 metres from high tide and good fishing spots) and is just 4 km by road from the Kaipara Harbour to the east.
The farm was established in 1982 when my brother and I purchased 50% each of our parents farm.
Te Atarangi consists of a 1000 Hectares. Aprox 850 is effective with the balance being in pine trees and some scrub on very steep country.
Te Atarangi currently calves 500 females, of which 300 are registered Angus and the balance being cross bred. Our cross bred herd comes from heifers that we buy at 15 month from one of our very good clients that has a jersey stud and mates his females to Angus after AI. These females are very efficient and with the right Angus bull across them they produce some magnificent progeny. Te Atarangi also buys in bulls, steers and heifers for finishing. We winter just under 1500 head of cattle and that number increases in the spring to 2000.
We have spent 30 years developing our farm, much of it from rushes, scrub and virgin undrained peat. The initial farm was 515 ha with 12 paddocks. We now own 900 ha and lease a further 80 ha.

A sub division programme over the 25 years sees us with approx 350 paddocks now.
The farm is summer dry with the majority of the soil a sandy loam of medium to low fertility.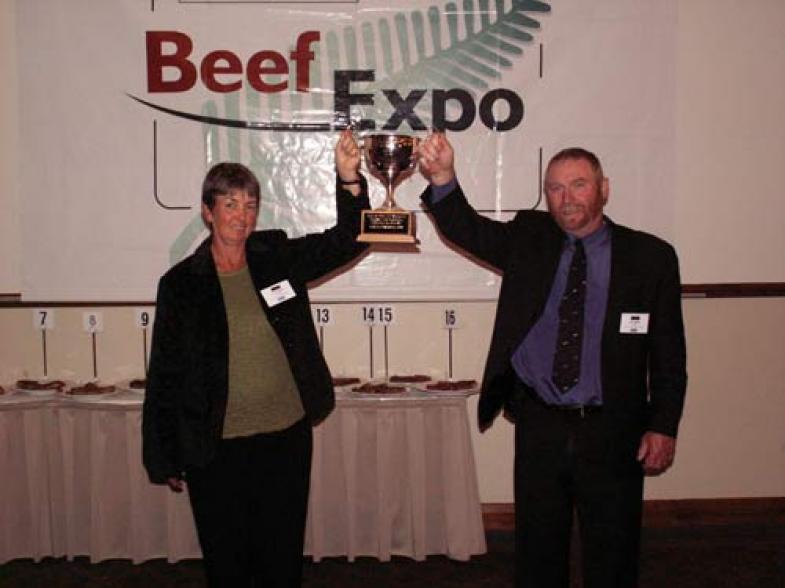 We were thrilled to win the 2007 Steak of Origin with an Angus entry from our stud and in 2012 The steak of Origin Producer of the decade. In 2013 we were again the overall winners, this time with a 3/4 angus 1/4 jersey heifer.